Weekend in Paris — 011620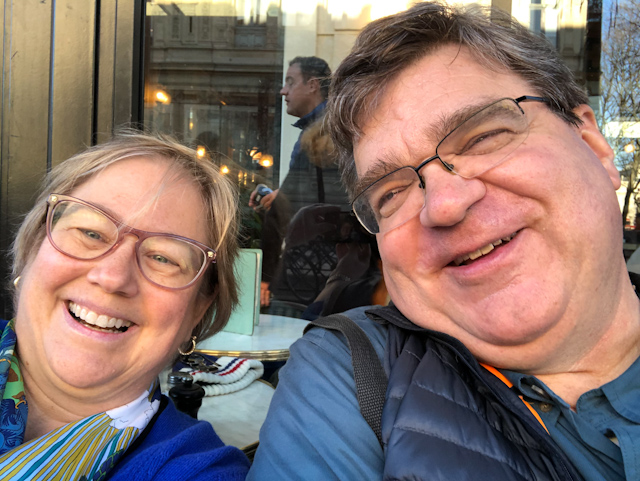 Wednesday 1/15/20
-Our flight. Cathie upgraded us
–Thus we were able to stop at the Polaris Lounge
Wed 1/15 UA987 ORD->CDG 6:25pmCT to 9:40amCET
Thursday 1/16/20 Ste Chapelle, Notre Dame
-Good flight, on time.
-ATM machine gave us mix on euro bills (for once)
-Driver met us at baggage claim. Nice luxury ride to the hotel. 90 minute drive, lots of traffic
-Hotel Edouard VII on Ave de l'Opera
–Room was ready 211. Nice room, very of side street. Warmish. Bathroom nice. Bed comfortable
–Nice welcome letter, really helpful Conseierge (Ebau)
-Weather: clear sky, temp in the 50s
-First stop Ste Chapelle
–walked, longer than I thought
–we originally got in the wrong line
–not that crowded, nothing under-construction
–beautiful stained glass
-We then stopped at the cafe across the street Les Deux Palais
–We stopped there back in 2014.
–It was cool out side, but still nice enough to sit outside, in January!
-We then walked over to Cathédrale Notre-Dame de Paris
–They were putting giant custom shaped wood beams under the flying buttresses
–The informative posters say that the whole structure is very fragile.
–This was shockingly sad
-We then crossed the river heading North by the Pompidou Center
–We bought somes gifts from Pylones (same shop as what we found in Nice)
–We had a nice long walk through the neighborhood
–Lots of people, cafes, shops. Looks local (vs touristy)
–I think this was a walk from the 3rd to 2nd to 9th arroundisement
-I was walking really slowly, we couldn't get back to the hotel in time so we stopped at an EXKi
–Cathie had to take a work call.
–We sat outside and had water and juice and Lemon meringue pie
–I probably fell asleep during her call
-We walked back. Long walk, probably 20 minutes
-We had dinner at the hotel restaurant
-To bed by 8:30.
Friday 1/17/20 – Musees d'Orsay and L'Orangerie;
CSO Concert
-Weather: Started cloudy but cleared and high of about 55
-Slept ok, got up for a little while
-Hotel breakfast, normal
-Our tickets for the Louvre were at 11am
–Walked over. Short walk
–right when we got there, they closed because of a strike
-Walked to the L'Orangerie
–got in right away, really nice Monets
–Interesting Félix Fénéon exhibit
–I nice person helped me with the stairs and encouraged me to use the elevator, restricted for people with physical difficulties
–We got a seat in the Orangerie Cafe — we had Quiche
-Then walked across the river to the Musee d'Orsay
–Online said wait on the ticket line was about 20 minutes
–Things have been rearranged a little
–Most of our favorites were up on the 5th floor now
–We had to hunt for the Van Goghs
–It was crowded and warm
–My feet were hurting but I was still moving
-We then caught a taxi to the Galleries Lafayette
–Cathie found a nice new evening purse
–The Chinese person ahead of us was using her mobile phone calculator to complain about the prices
-We headed back to the hotel, but stopped along the way at The Café du Cadran
–we had a couple of rounds of drinks, Cathie had her favorite Beaujolais Brouilly, I had 1664 beer
–We split a crepe
–Window seat, really nice waiters
–Multiple e-bike users
-Walked back to the hotel, concierge picked a Le Grand Cafe for us for a 6pm dinner
–Inside window seat, it rained while we ate
–Excellent menu, we order Côtes de Provence rose
–We even ordered desert
–We finished at 7pm
–Luckily the rain stopped
-We had to rush back to the hotel to catch a taxi to the concert
-Ebau got us a taxi and told him to rush us to the concert hall
–We got in the cab at 7:30 and his GPS estimated that we had a 40 minute drive
–But the concert starts at 8:30pm, were we going to be late!
-We got to the Philharmonie de Paris on time.
–We were in our seats bv 8:20
–The tickets were waiting for us at the Invitation desk
–Our seats (D16, D18) were on row 4, even with the third row of cellos
–Seats were elevated, roughly at the same height of the stage
–We met other people from Chicago
–One couple went to all the CSO Europe shows!
–Each of the pieces were warmly received by the audience
–At the end, the audience was clapping loudly in unison
–Muti did an encore!!
–At the end, we had a hard time to finding a taxi
–We got back to the room at 11:30pm or so
–Wore dress shoes, easier on my feet
-We slept late and had breakfast at 10:30am
-Weather Sunny, clear, mid-50s
-At breakfast, we ordered Louvre tickets for noon
-We walked to the Louvre
–We walked on the other side of the avenue because it was so sunny
–No problem downloading the mobile tickets
–arrived at 11:30, got in the special line and got in quickly.
–The regular line was very long
–Mona Lisa was roped off, to allow a more structured viewing
–We saw all our favorites.
–I was limping a lot
–Nice lunch at the  Café Mollien. Quiche, limonade
–Bought some post cards and gifts at the store
-Walked over to the hotel stopped at the nearby Cafe Royal Opera
–Sat outside for an hour or so.
–Watched two protests walk by
–Learned that earlier in the day, the opera performed outside to show support for protests
–Cathie upgraded us to business class (cheaper)
-Bought cards at Brentanos, Librairie Americaine
-Back to the room
–reps
–nap until 6:30pm
-Walked along way to the Bourse and had dinner at the La Gallopin restaurant
–We were early, very few people in the restaurant
–When we left, it was packed
–Local people, no tourists
–Again we had a Rose wine Côtes de Provence
-Walked back, had a drink at the bar, then went to bed
Sunday 1/19/20
-Taxi pick up at 8am
-No traffic
-Checked in, through security by 9:15
-Left for our gate at 10:15, had "Access One" to bypass the (short) lines
-Bought a bunch of Laduree for family and classmates
-I fell asleep in the Star Alliance lounge
Sun 1/19 UA986 CDG->ORD 11:40amCET to 2:10pmCT
-Nice flight, I slept a little. Watched alot of movies
-Landed in Chicago. Got thru customs quickly
-Limo SUV came right away. It was crowded
-Cold. We had snow. 16 degrees. Driveway caked with snow/ice
-Thanked Vicky for watching the cats. They met us at the door
-We started laundry right away. Cathie had a business trip to Phoenix